Guatemalan Girls Are Not in School
In Guatemala, girls are not traditionally supported in their desire to go to school. Often, when parents have to decide which child to educate on their meager earnings, they prioritize the boys, and the girls get left behind. In some parts of Guatemala (where we work), there is a boy and a half in school for every girl. In Guatemala as a whole, 80% of men are literate, compared to 58% of women.
Educated Girls Change the World
According to a growing number of experts, "girls' education is the world's best investment with the widest ranging returns" (What Works in Girls' Education). Educating girls
improves the health and survival rates of infants and children
leads to higher rates of school attendance and completion in the next generation
improves the status of women within families, communities, and the political arena
and much more!
The Thousand Girls Initiative
Help empower a new generation of educated Guatemalan women! The Thousand Girls Initiative is a massive expansion of the Rise Youth Development Program that will help 1,000 girls and 250 boys across the country rise out of poverty for good.
Never Forgetting the Boys
Why include 250 boys in the Thousand Girls Initiative? We believe that all children born into the cycle of poverty deserve the opportunity to rise above their current circumstances. Plus, when girls and boys learn together, they learn from each other, too.
Sponsor Now
Sponsor a girl or boy and help empower a new generation of educated Guatemalan women!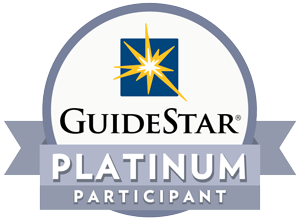 Guidestar
Cooperative for Education receives Guidestar's Platinum Seal of Transparency for our dedication to testing and proving the impact of your donations.
COED runs on passion and efficiency in a way that is unparalleled in my experience.
Become a Groundbreaker
Help an entire community enter the Rise Program and unlock the potential of the students living there!
Girl Advocates
Check out a few thoughts from supporters like you.
Helen Anderson
"As a former educator and business owner, it is my opinion that education can be the vital experience to not only change the quality of lives but also build a 'Bridge to Peace.'"
Juan Jose Caxaj
"You see our country, and there is violence and dishonesty and corruption everywhere. It's my view that in the future, as we get more and more women educated and into positions of leadership that is going to help us address these problems. That is my hope and my vision."
Linda Kuck
"As a grandmother of six wonderful girls, I cannot imagine these beautiful girls in Guatemala not having the same educational opportunities as my girls back home."
Carol Cain
"As someone who has personally experienced poverty on an extreme level as a child, I can say that the thing that always gave me hope and ambition was the promise I had of an education."
Ryan Van Duzer
"I've seen firsthand how a single scholarship can transform an entire family, let alone how it builds endless confidence in the recipient."
Josh Clark and Chuck Bryant
"The Thousand Girls Initiative is very cool. Education is one of the best investments you can make in the developing world."
Matt Berninger
"Places where women and girls don't get the same opportunities as men to educate themselves are very often the places in the most trouble."
Ready to Join the Thousand Girls Initiative?